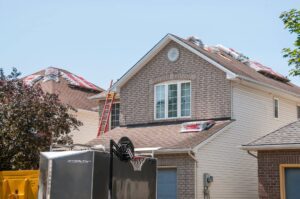 The average Ottawa homeowner is not educated in their roofing system; here are the warning signs that you might need a new one.
The first warning sign will be in your eaves and downspouts. When shingles are older they will loose their Granules. If your roof is getting really bad these granules can even clog the drainage. Simply tap the spouts to see if any fall out or have someone look into your eavestrough. They will be highly visable.
Secondly look at the shingles on your roof; are they curling at the corners? Can you see dark patches? Shingles should remain flat on the roof without curling. Without correcting this issue shingles will start to blow off the roof. Dark patches indicate the shingles are worn through their layers.
Mold growing on your roof is another warning sign. In wooded areas you will find this more often. Mold could mean the shingles are damp and the roof deck is absorbing water.
If your roof is hard to see from the ground, look for debris in your yard. Take a look around your street at neighbouring roofs; this should give you an idea of where your roof fits in.
There are a few other signs that you can look for inside the house, and attic. If you notice any bubbling paint on your ceiling or walls nearest the attic, this could be a moisture problem. Your venting will need an upgrade. Take some time, have a look in your attic, if you can see daylight that is a bad sign. Other things to look for in the attic include moisture and sagging of the plywood.
Having one of these warning signs is not always an indication you need a new roof. Calling a professional like the ones at Remember Me Roofing Inc can help you diagnose the issue. In some instances you can get away with just a repair or upgrading your venting.