Table Of Contents:
Roof replacement entails ripping off the entire roof down to the deck and replacing it with new felt paper and shingles. Reroofing is not an option; a roof replacement can be done regardless of how many layers of shingles are already on the roof.
Roofing Replacement: Basic Guide
Installing new roofing is undoubtedly the most critical of all major home repairs. Though a new roof isn't glamorous, you'll appreciate its value if your old roof fails, allowing water to destroy your home's interior, from the attic insulation to the painstakingly remodelled kitchen to the basement family room with a big-screen TV. A leaking roof is one of the few home problems that can be disastrous.
Roof replacement isn't something to take lightly, and it's also not something that should be put off. Before soliciting bids from roofing contractors, brush up on these basics if you suspect your roof is nearing the end of its useful life.
Basic Roofing Materials
Your choice of roofing materials is often influenced by your location as well as your personal preferences. Metal roofing, for example, is popular in some areas because of its fire resistance, whereas in others, the predominant home styles may call for a Spanish-influenced tile tool. The type of roofing materials you can use is also influenced by the roof pitch (angle). Wood shake shingles, for example, are suitable for steeply pitched roofs but not for flatter, low-pitched roofs.
The following are the most common residential roofing options:
Composition asphalt shingles: These are inexpensive and readily available, but their flat appearance makes them less appealing than other options. This is, by far, the most common roofing material.
Wood shakes or shingles
These shingles are expensive but attractive. They're tough, but they're not a good choice in areas where there's a risk of fire.
Metal Roofing
Steel or aluminum roofs have become increasingly popular in recent years, owing to their durability and fire resistance.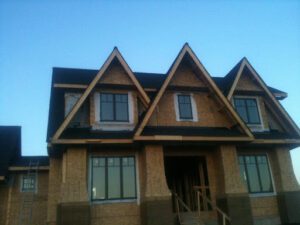 These are pricey roofs that require specialized contractors to install, but they may be cost-effective in the long run due to their long lifespan. Metal roofing systems come in various styles, including raised-seam panels and products that look like composite shingles.
Slate roofing is a beautiful, high-end roofing option, but it is also costly and heavy. Slate roofs are dangerous to walk on and difficult to repair if they are damaged.
Composition slate is gaining popularity as a synthetic tile made from 95 percent recycled materials, including rubber. They are similar to slate and other types of stone tile, but they are much lighter and less prone to damage.
Clay or ceramic tile: The so-called Spanish-style red tile roof is still standard in Southern California and Florida, but it is gradually being replaced by metal and composite materials that mimic the look of Spanish tile.
Tear Off or Second Layer?
It used to be common practice to lay a new shingle roof over the old one at least once, if not twice. This is no longer permitted in some jurisdictions, as complete tear-off of the previous roofing is now required. Even where layering is permitted, Here are the pros and cons of applying a new layer of shingles over the old: 
Weight
The main argument against adding more layers of asphalt shingles is that the roofing materials can become too heavy for the roof framing underneath. This can be a structural issue, particularly in older homes. A triple layer of asphalt shingles is often compared to a single layer of slate shingles, a weighty material.
Telegraphing
Another issue with shingling over existing shingles is that you essentially repeat some of the existing surface irregularities. If you're thinking about getting a new roof, there's a good chance you'll find bubbles, bumps, and waves that need to be addressed. Installing new shingles over existing problems can result in an unappealing new roof. Going over the old roof and correcting as many problems as possible before re-roofing is one way to minimize this problem. To fix bumps, gaps, and protruding nails, all you need is a hammer, some roofing nails, and a handful of shingles.
Work and waste reduction
The primary benefit of layering or roofing replacement is that it reduces the amount of work required. More work is added to the process by removing the existing layer and laying down a new one. This isn't a big deal if you hire a professional to do the job.