Table Of Content:
Installing a new roof is one of the most costly home repairs. It can be difficult to tell if your roof needs to be replaced or repaired. Several factors can be used to guide homeowners. If you're unsure if your roof needs to be repaired or replaced, a roofing contractor can help.
The Roof's Golden Age.
Asphalt shingle roofs typically last between 15 and 20 years. Asphalt shingles made by GAF are now available to last up to 30 years (if maintained well). Your roof should be replaced if it has numerous leaks, numerous damaged areas, and is close to 15 years old.
The number of layers on the roof
You may need a new roof if your roof is leaking and has several layers. In the roofing industry, this is called a "total tear-off." It's time to remove the old layers and install new wood roof framing. After that, new shingles are put on. When it comes to layering, city regulations can be very restrictive. The maximum number of layers that can be applied in most areas is three. Check with a local roofer who is familiar with the local roofing codes.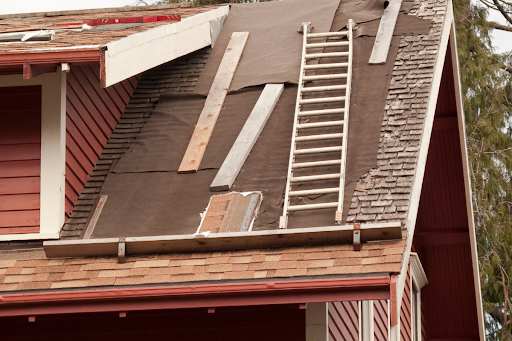 Some of the Other Signs That Your Roof Is Nearing the End of Its Life
Shingles that are missing or torn
Damaged or missing shingles can be a sign of more severe issues with the roof. Poor roof ventilation may be to blame for peeling shingles. Warm air is escaping through the roof due to poor ventilation. Moisture under the shingles may form due to the warm air, and water causes mold growth or black spots. Ventilation is critical to the proper functioning of your roof and attic.
Interior Walls' Condition
Many clues can be gleaned from the condition of the interior walls that touch the roof. Your roof may be leaking if you notice a significant loss of paint and heavy moisture marks on your walls and ceilings. There may be a problem in your attic if you have safe access.
Climate Change and Severe Weather
Storms like tornadoes and hurricanes can cause irreparable roof damage, and damage to the roof is not always apparent. A professional roofer (one who has dealt with weather-damaged roofs in the past) can help you determine if you need a new roof.
Faulty Architects
The roof on your home is less than 15 years old, and it needs significant repair. Incorrect installation or use of defective materials could be to blame. Warranties cover the materials used in many roofs, and some even cover the labor. Find out who installed your roof by contacting the company that did so.
Remember Me Roofing can assist you in the repair or replacement of your roofing system. Get in touch with us at https://www.remembermeroroofing.com/roof-replacement/.