Table of Contents
What is more essential, a roof or a good quality roof?
"A quality roof" is self-evident. Let's start with what we truly want in roofs: longevity, strength, and, most importantly, excellent materials. People build homes to keep things secure, and it is even more essential to install excellent roofing for added security. When discussing the cost, stability, and quality, we mainly refer to the quality roofing people want when installing a new roof. Currently, technology is evolving fast to provide people with what they need at affordable rates. Everyone desires a home that is both contemporary and appealing. When we consider all of the components of a home, the roof is one of the most important. The roof is an essential part that includes the foundation, walls of a home, windows and structural components of a complicated building system.
The lifetime of any roof, whether it is on your home, hospital, commercial structure, malls, retail stores, schools, and so on, is determined by the quality of the installation work, the climate, and the quality of the material used. Roofs are considered complicated constructions that may require the installation of several feature levels. A little mistake may lead to massive devastation. It is very hazardous to attempt to put a roof on your home without prior knowledge and expertise. As a result, it is essential to employ a professional that can handle all of the specifics from start to finish. An expert roof installer can advise you on the best roofing material to use throughout the installation procedure. They can do their job while keeping your belongings secure and tidy.
When it comes to business roof repair, installing metal roofs has increased in recent years due to various benefits. It is generally simple to guarantee that roofing installation and repairs are completed on time before they become major issues. This will ensure that the life of the roofing is extended while saving you money on the frequent repairs required due to negligence. Various materials, such as tiles, metals, and bricks, are needed throughout the roofing installation process.
Metal Roof Installation Tips
The first step in metal roofing installation is to choose the appropriate material for the project. These may include fasteners, decking, flashing suitable for the pitch of your current roof, framework, and metal roof panels. Having a thorough design before you go out and buy the supplies for the project will assist you in determining what hardware you'll need as well as the number of roofing panels you'll require. If you put metal roofing on the old roof, you may require furrow strips or asphalt paper between the two roofs. You should also make sure you have collected all the tools you need in advance to guarantee you get all the essential things done correctly and promptly. It is also essential that you read and follow the manufacturer's installation instructions before starting the job carefully.
You must first assess the existing pitch of the roof to guarantee adequate drainage from your roof. The reason for this is because various metal roofing panel designs have varying roof pitch requirements. Once you've determined the pitch of your roof, you may choose from the many designs available for that pitch. If the roof's pitch is low, you may need extra sealant and hardware to provide a waterproof roof. Metal roofing installation may be done with either internal or exterior fasteners, although external fasteners are more convenient. The kind of flashing, trimmings, and fasteners used will be determined by the roofing panels you choose.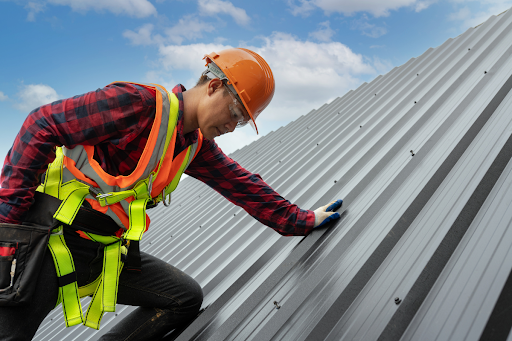 Metal roofing installation requires the following tools:
Eye protection

Fastening tools

Gloves with a good grip

A cordless drill with a fastener attachment may suffice for minor roofing projects, but larger roofing work requires a specialized impact driver.

To cut across the panel ribs, you may just need a nibbler attachment for your cordless drill or power saw with a metal-cutting carbide blade. The magnitude of the work determines it.

To cut around obstacles, use tiny hand-held metal snips that may use with either the left or right hand.
Panels should be placed from the peak or gable downward when installing metal roofing. It should be in the opposite direction as the winds that bring the rain. You may expedite the installation by pre-drilling the sub-roof to accommodate the fasteners.
When constructing or repairing a roof, it is critical to constantly strive to use the most up-to-date technology. The old one must first be removed and then the waste disposed of and a new one applied before a new roof was built. In all situations, this guarantees your roof is weather resistant. In addition, it is important to use qualified and experienced professionals in roof installation if you want to construct a quality roof that will protect you and your family for years to come.